Introducing a better digital experience

Designed for every device
It looks great on your phone, tablet, and desktop. By following modern app design principles, the layout should feel familiar and intuitive. And now every feature is available on every device.

Move money easier than ever
One place to move money however you need and whenever you want. Go to Transfers to make loan and credit card payments, move money between your internal and external accounts, or transfer to other Cornerstone members.

Latest security and alerts
Peace of mind is included with the latest security analysis and methods to protect your account. Required security alerts and customizable activity alerts keep you informed, deliverable by email, text, and push notifications.

Advanced card controls
Prevent card fraud by controlling how your debit and credit card can be used. Choose the merchant categories, geographical areas, and transaction types that you want to allow. Change it instantly anytime.

Questions? Check out the Digital Banking Update FAQ below.
Sneak Preview
Make the new dashboard right for you by showing, hiding, and arranging accounts and tiles however you like.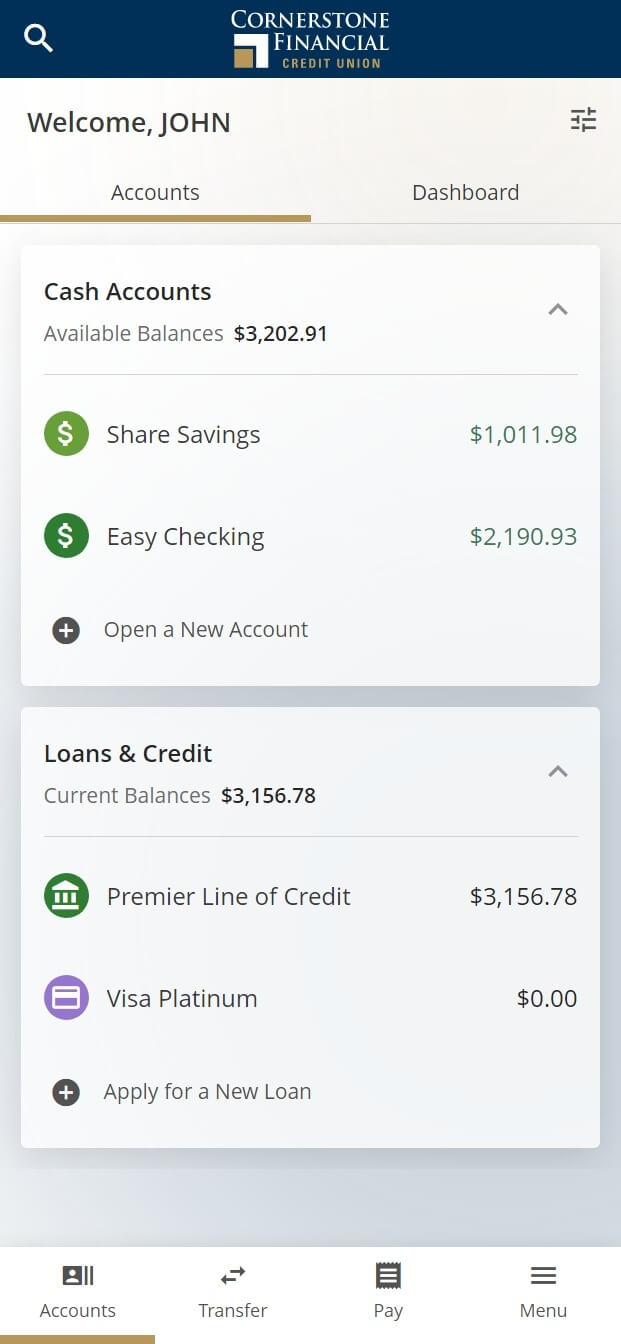 Digital Banking Update FAQ
When will this update occur?
The digital banking update will be released on Tuesday, February 7, in the afternoon.
What will I need to do?
Log in with your existing username and password. Then you will be asked to confirm your Social Security number, enter a one-time verification code sent by email, text, or phone call, and finally create a new password.
Why do you ask for my full Social Security number?
We want to verify your identity quickly, easily, and securely. Requesting other identifying information, such as name, date of birth, phone number, or last 4 of SSN, is not as secure and increases the chance of input error or record mismatch.
Will the mobile app be updated too?
Yes! Starting on February 7, the current app will provide a link to download the new app from the App Store or Google Play. The new app icon will have a white background with our logo instead of navy background, making it easy to tell the difference. You may delete the app with navy background after you install the new app.
What information will convert to the new digital banking?
External accounts, scheduled transfers and loan payments, and Bill Pay profiles are being converted.
What information will not convert to the new digital banking?
Alerts will not convert. The new alert system is much better, and push notifications are now a delivery option for mobile app users.
Budgets and Categorization will not convert. You may activate Spending Analysis on the dashboard in the new digital banking for transaction categorization and graphical analysis.
Automatic credit card payments will need to be set up again. The new credit card experience is now fully integrated in digital banking, and we added advanced card controls, new alerts, and travel notifications to improve the experience.
What new features will be available in the mobile app?
The new mobile app now includes every feature available on the digital banking website! You may add external accounts, schedule transfers, set up alerts and receive push notifications, add a quick balance widget, and much more! While there are a lot of new features in the app, the design and universal search make navigation easy.
What new features will be available in the digital banking website?
Advanced card controls, travel notifications (no more calling!), instant external account verification, and additional transfer options are a few of the new features available in the website experience.